This is a guest post by Sandy Johnston. Sandy is a recent graduate of List College of the Jewish Theological Seminary and of Columbia University, where he majored in Bible and Archaeology, respectively. He currently lives in Chicago. His interests include, in addition to the study of ancient Israel, railroads and transit systems, urbanism, Israeli and American politics, and critical thought about the future of the American Jewish community. And cats.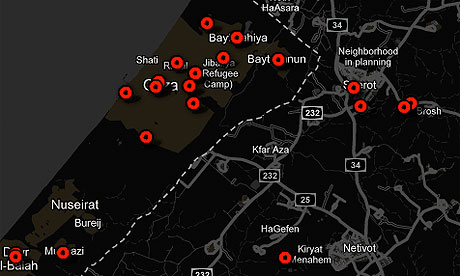 (Map of verified incidents, Monday, November 19, 2012. Via the Guardian.)
Now that the latest bout of bloodshed between Israel and the Palestinians of the Gaza Strip is  behind us, the time has come for analysis, postmortems, prognostication, and punditry.  I take issue with a particularly simplistic, troublesome, and unhelpful strand of what passes for "progressive" thought on the Israeli-Palestinian conflict that surfaced in threads I saw on Facebook during the latest round of fighting. My desire is not to legitimize Israel's operations against Gaza nor to delegitimize criticism of the same; in the vein of criticizing most heavily those with whom one most identifies, I write to hopefully help sharpen the arguments and solutions that my fellow progressives put forward about the Israeli-Palestinian conflict. And yes, if I had the energy, I would write a response to some of the equally unsophisticated, idiotic, hurtful, and insensitive propaganda that came from the "Pro-Israel" side.