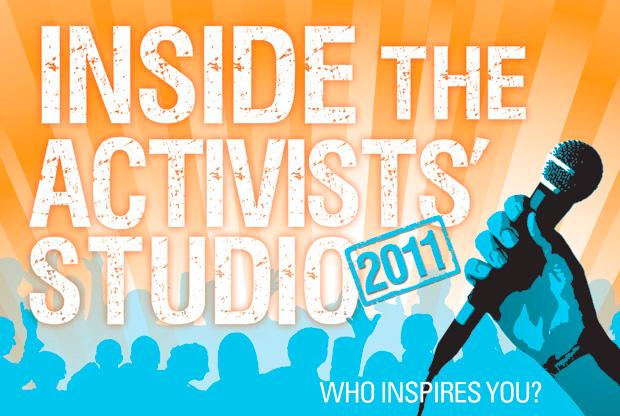 Jewschool is proud to sponsor for the third year running the Inside the Activists' Studio series. We've co-sponsored in NYC, DC…and now San Francisco! Pursue: Action for a Just World takes the lead with this year's partners New Generations of The New Israel Fund and Progressive Jewish Alliance plus a host of other Jewish social justice co-sponsors.
(Will you be in San Francisco for this? Email us and cover it!)
4th Annual Bay Area Inside the Activists' Studio
Sunday, February 27 at 10:30 am
Contemporary Jewish Museum, 736 Mission Street, San Francisco
Join us to learn from and be energized by local Jewish change-makers and to celebrate the multitude of ways we are working to create a more just world! This signature annual event features skill-building social change workshops, catered lunch, panel discussion with local change-makers, networking opportunities, and a who's who of local Jewish social change organizations.
Panelists:
Sasha T. Goldberg, Associate Director and Director of Student Programming at Nehirim.
Seth Linden, Founding Director, Tutorpedia.
Workshops:
The Game of Life 2.0: Identity, Power and Privilege
Giving Loving Rebuke
Community Organizing for Economic Justice
And more! (Lists in formation and subject to change, stay tuned for more details!)
P.S. If you're in the NYC area, sign up for Justice and Jewish Thought — a study group series on radical Jewish thought.
Schedule for the day:
10:30 Morning Registration
11:00 Workshops**
12:30 Lunch**
1:00 Afternoon Registration
1:30 Featured Panel of Change-Makers
3:00 Reception
4:00 Closing
The museum is open until 5:00 and your ticket to the program includes museum admission!
**Workshops and lunch require pre-registration. Suggested pay scale for these morning sessions is $15-18.
Discounts available for volunteers – contact [email protected] for more info.
Co-sponsored by: Birthright Israel NEXT/Bay Area Tribe, Contemporary Jewish Museum, EcoJews of the Bay, Hazon, Jewschool, LGBT Alliance and Young Adult Division of the San Francisco Jewish Community Federation, Moishe House, Nehirim, UpStart Bay Area, Urban Adamah, Uri L'Tzedek, Young Adult Community at Congregation Emanu-El, & Zeek.