Godwin's Law: Bnai Brith Canada
Recently, the Rabbinic Assembly, the organisation that represents Conservative rabbis, issued a statement, signed by 300 members, asking that Nazi rhetoric not be used in political discussions. The JTA reported they included examples such as "Southern Baptist Convention leader, the Rev. Dr. Richard Land, calling health care reform proposals 'what the Nazis did' and U.S. Rep. Alan Grayson (D-Fla.) referring to the current health care system as a 'holocaust in America'."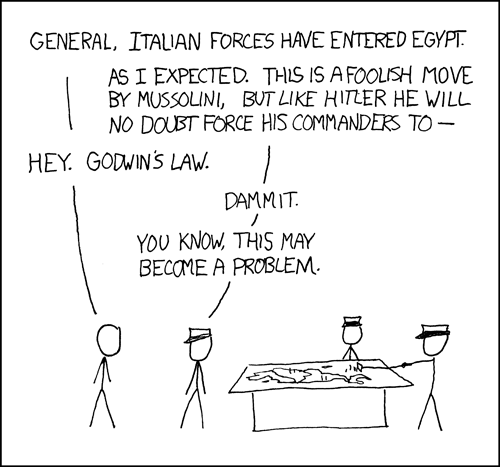 Bernie Faber, CEO of the Canadian Jewish Congress, wrote an opinion piece for the Toronto Sun decrying the use of Hitler/Nazi comparisons in politics as well, including examples of its use in the US and Canada.
And we all know the principle behind Godwin's law: "As an [Internet] discussion grows longer, the probability of a comparison involving Nazis or Hitler approaches 1." Overuse of Nazi/Holocaust comparisons lessens the impact of valid comparisons.
But apparently the message wasn't heard by B'nai Brith Canada. Their mission is, in part, to fight antisemitism, racism, and bigotry.
Except, it seems, when it comes to evoking the Holocaust as justification for slamming Muslims. On November 9th, Kristallnacht, they ran a full-page ad in the National Post, one of Canada's two national newspapers, equating radical Islam with the Nazi movement that led to the Holocaust. Unsurprisingly, it upset many people, including Holocaust survivors and groups that work to create bridges between Jews and Muslims.
Bnai Brith has said that despite the outcries, the ad was a success as it alerted people to the real threats of Islam, Iran, and a "future holocaust." The ad can be seen in full online here. In case you don't want to look at the ugliness (not just its message, it's also hard on the eyes), it was summarized by the JTA:
Headlined "The Unholy Alliance," the ad … noted the anniversary of Kristallnacht, the widespread pogroms in Germany on the night on Nov. 8-9, 1938. It showed a photograph of the Grand Mufti of Jerusalem meeting with Adolf Hitler, and noted the "common objectives of Nazism and radical Islam: Killing Canadian men and women on the battlefield, incitement of children through schools and media, annihilation of world Jewry, and subjugation of every one else, [and] world domination."
And, yes, that's right, this was all done in hopes of soliciting donations. Bnai Brith claims that negative reactions to the ad were greatly outnumbered by positive reactions, so they feel it was worthwhile.
I agree with Now Toronto columnist Susan G. Cole's outrage, so let's leave it with that:
It features a photo of Adoph Hitler and the Grand Mufti of Jerusalem, as if it was only Islamic leaders who were complicit while the Nazis herded Jews into the gas chambers. History tells us the Catholic Pope sat back quietly, knowing exactly what was going on. And didn't every single western democracy refuse to take Jews into their countries when it was obvious they were in grave danger? So why single out the Mufti?
The ad is misleading, inflammatory and, worse, reflects terribly on the Jewish community. So let it be known that there are many Jewish people, including myself, horrified by the ad.