Shira Kamm: Farm All-Star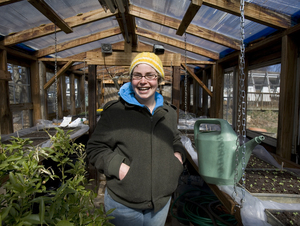 Apparently, serious Jews are allowed to work at non-explicitly Jewish farms. My friend Shira has started Wild Goose Garden recently and just got featured in the big Philadelphia newspaper.
For an economics major, Shira Kamm is handy with a shovel or a hoe. And she's cozy behind the wheel of a truck or a tractor.
But she does tire of questions about how she manages that 12-foot truck, assumptions that she must be gay, and unwanted advice from guys.
Such is the lot of the female farmer.
Kamm, 30, just signed on to lease land from a retired couple in Glen Mills to start her own farm: Wild Goose Garden, on four acres near Cheyney University.
And that puts her among a new breed of city slickers – urbanite devotees of the Do-It-Yourself culture, committed to sustainability and ready to put their jeans to good use.
Goodluck with the 2008 season!