Evangelicals Rallying Behind Israel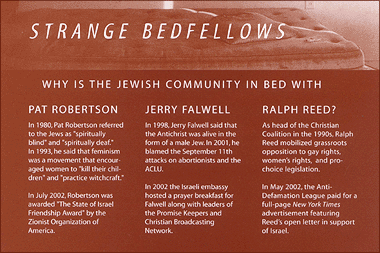 Follow up to an earlier post:
OAKLAND – To prevent the George W. Bush administration from pressuring the Israelis into turning over even more land, Hagee, the pastor of San Antonio's Cornerstone Church and the head of a multi-million-dollar evangelical enterprise, recently brought together 400 Christian evangelical leaders — representing as many as 30 million Christians — for an invitation-only "Summit on Israel".
The result was the launch of a new pro-Israel lobbying group called Christians United for Israel (CUFI).
By 2002, a number of veteran Christian conservative evangelical leaders and Republican Party power brokers had joined forces with conservative Jewish leaders to launch several pro-Israel organisations. But the history of Jewish-evangelical involvement goes back several decades.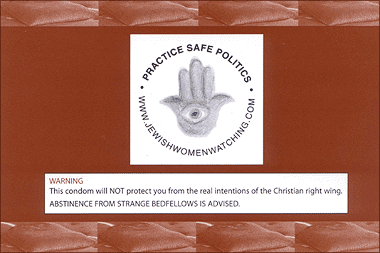 According to Rabbi James Rudin, writing in his recently published book, "The Baptising of America: The Religious Right's Plans for the Rest of U.S.," "the first [modern] evangelical-Jewish meeting" took place in New York in 1975.
Full release
Even Abe Foxman of the ADL recently came out—after many years of condoning this "strange bedfellow" with Christian groups because of their undying support for Israel—critiquing this politically assanine union with Christian groups who could care less about Jewish people in the U.S. or in Israel, let alone the rights of Palestinians.